Hounds for Heroes – Emma and her assistance dog Jollie
In July, we awarded Hounds for Heroes £28,500 to fund an assistance dog over the lifetime of its partnership from the point of placement (a period of 8 years). The charity meets the cost of food, equipment, insurance and veterinary treatments until the dog's retirement at 10 years old. Currently, there are 14 dogs in training; this grant has been allocated to Jollie and her partner Emma.
Read Emma's story in her own words:
"Since leaving the Navy, I have moved back to the Highlands of Scotland – where most of my family live.

I live with my partner, who is a Police Officer. I have two dogs now – my own pet called Maya, who is a black German Shepherd. I now also have a Hounds for Heroes assistance dog called Jollie – she is a (nearly) 4-year-old red fox lab.

I have lived with my illness for a number of years, but since having my dogs (especially Jollie) life has felt much more enjoyable. Jollie gives me purpose, she also gives me a focus when I hear triggering noises.

Taking care of Jollie gives me a daily purpose – something that I have struggled with since leaving my very demanding job in the military. She is also great company and gives me a reason to get out and about.

I think my family feel much more content knowing that I have a companion to prevent me from feeling isolated. They also feel comfort in knowing that I have Jollie for support.

I would urge veterans who are struggling with disabilities to reach out and put an application in. I understand that you may feel that you're "not worthy" or there are veterans who are "worse off" than you are – but please, just put in the application and let the Hounds for Heroes team decide who is in need of a dog. The team will do the triage and make sure that all applicants get the help meets their needs. Just don't hold off because you worry that you're not a worthy applicant."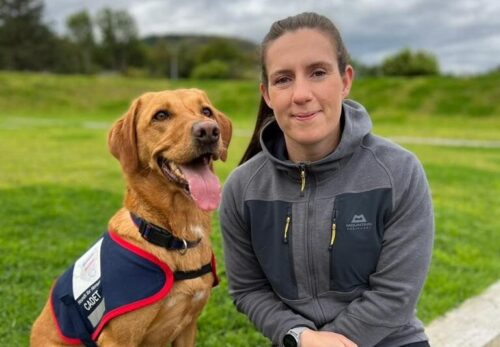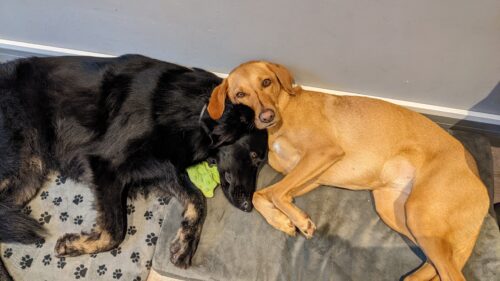 If you want to learn more about our grant programme that helps people through pets, have a look here.
Want your story featured on our site? Get in touch through our contact page